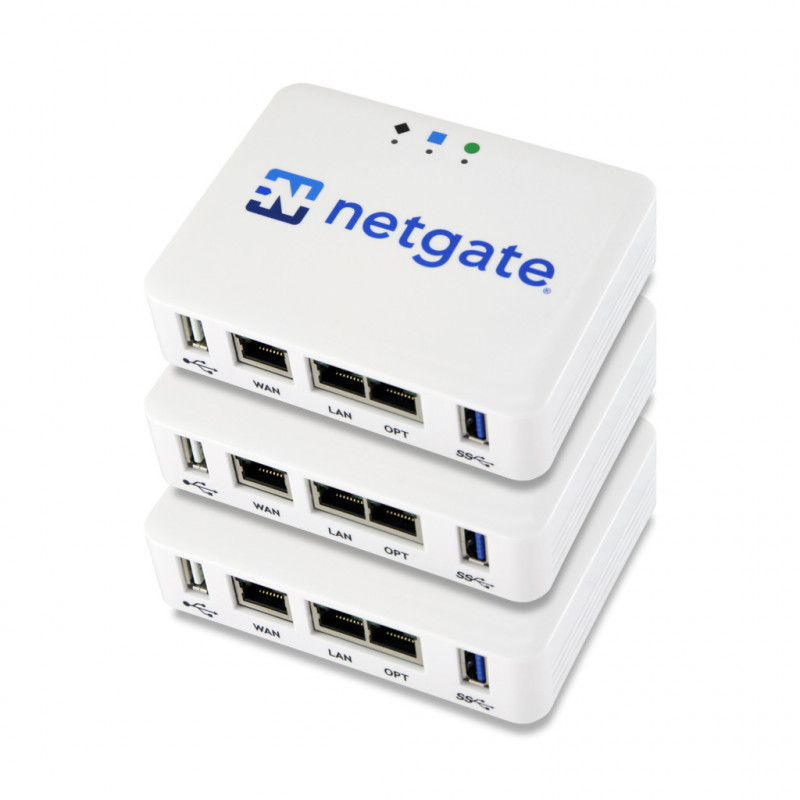  
10 PACK - SG-1100 PFSENSE+ SECURITY GATEWAY
5X the speed and 2X the RAM vs. the SG-1000.
ESTIMATED DELIVERY: 2 - 3 BUSINESS DAYS
Our Advantage: No custom fees, no import tax inside the EU. Local RMA Support
Consumer and business customers will quickly appreciate that this product packs a serious punch with pfSense Plus software, world-class price-performance, elegant packaging, and an unbeatable low price. The SG-1100 is underpinned by the powerful, yet energy-efficient, 64-bit Marvell ARMADA® 3720 network processing system-on-chip (SoC), which fully leverages dual Cortex®-A53 ARM® processor cores.
Get up to 500 Mbps of throughput when used as a firewall, and up to 1 Gbps when used as a router. Read our appliance buying guide for more information and advanced configurations.
TECHNICAL SPECIFICATIONS
SoC
Marvell Armada 3720LP (88F3720) dual core ARM Cortex A53 processor @ 1.2GHz
System Memory
1 GB DDR4 RAM on board
Storage
8 GB EMMC
Network Interfaces
1x Marvell 88E6141 networking switch
3x GbE Ethernet (WAN/LAN/OPT)
1x Mini PCIe slot(1)
USB
1x USB 3.0
1x USB 2.0
1x Micro USB port (console)
Misc
Reset button, heatsink, 3 Status LED
Power
12V 2A DC 5.5mm x 2.1mm x 10mm jack, center pin positive (power over USB not supported)
Power Consumption
3.48W (idle)
Operating Temperature
 0°C (32°F) to 45°C (113°F)
Enclosure
Plastic 110 x 84.6 x 31.75 mm (4.33" x 3.33" x 1.25")
Hardware Warranty
1 year standard with purchase
Certifications
CE, FCC, RoHS. Looking for RCM certification? Inquire with our Australia or New Zealand Partners.
Read our appliance buying guide for more information and advanced configurations.
PRICE-PERFORMANCE KILLER
5x packet processing performance gain vs. the Netgate SG-1000
64-bit ARMv8 networking platform
Based on the popular Marvell ESPRESSObin design
ENHANCED SECURITY
Secured with pfSense Plus software
First product equipped with Microchip® CryptoAuthentication Device which provides assurance your system is running authentic, unaltered pfSense Plus software
MODERN PACKAGING / FLEXIBLE INSTALLATION
Cost-efficient / Low power
Sleek, compact, and attractive case
Quiet operation / Fanless design
IDEAL FOR CONSUMER, SMB, AND SERVICE PROVIDER NEEDS
Small Office Home Office (SOHO) internet access, home labs, and virtual offices
SMB, Branch Office, remote worker locations
Managed Service Providers (MSP) and Managed Security Service Providers (MSSP) services extension
Extensive use case support 
PRODUCT FEATURES
LOW TOTAL COST OF OWNERSHIP
No artificial limits or add-ons required to make your system fully functional 
No additional usage or feature-based pricing. Enjoy unlimited users, unlimited firewall rules, unlimited IPsec tunnels, dual WAN, etc.
Low power requirements to help save you money 
No moving parts to wear out. This system is designed for a long deployment lifetime 
GROWS WITH YOU
From firewall to multi-function security gateway, get the security you need to protect your home or business 
Flexible configuration and support for multi-WAN, high availability, VPN, load balancing, reporting and monitoring, etc.
Maximum Active Connections: 1 million
EASY GUI MANAGEMENT
Manage pfSense Plus settings through our web-based GUI 
No fumbling with a command line interface or typing arcane commands 
SECURE REMOTE ACCESS
Connect via encrypted Virtual Private Networks (VPN) between your offices, let mobile workers connect securely, or connect to the Cloud 
Use the built-in Amazon VPC Wizard to easily establish VPN connections with your Amazon EC2 cloud


BEST FOR:
Consumers
Remote Workers
Small to Medium-Sized Business Networks
Small to Medium-Sized Branch Office
Managed Service Provider / Managed Security Service Provider (MSP/MSSP) On-Premises Appliance

Software Features:
pfSense Plus software is a powerful firewall, router and VPN solution that leverages a number of highly-regarded open-source projects. The software competes effectively with far more expensive, commercial alternatives and is used by hundreds of thousands of businesses, educational institutions, and government agencies all over the world. Leading secure-networking features and capabilities include:
Ad blocker (pfBlockerNG)
Captive Portal
CARP / HA
DNS Server
DHCP Server
HTTP transparent / web / reverse proxy (Squid)
IP / Country block list (pfBlocker)
IDS/IPS
Packet capture / inspection
Port forwarding
QOS / rate limiters
Software load balancer (HA Proxy)
Traffic monitoring
Traffic logging, statistics, and graphs
Traffic shaping
VLAN
Wake-on-LAN
Website blocker (pfBlocker)
Learn more about the power of pfSense Plus software here.
ADDITIONAL INFORMATION
Please note that standard build time is 2-3 days after payment is received
Not POE compatible
Does not support mSATA or LTE cards 
Note: This system is not RCM safety certified for Australia and New Zealand. Customers in Australia and New Zealand should inquire about RCM certified systems through our Partner network.
Your purchase includes all of these super neat things, which will help you get started with pfSense Plus software:
Complimentary 24x7 zero-to-ping support from Netgate Global Support
Access to the online version of the continuously updated official pfSense book (700+ pages)
ACB: Automatic Encrypted Configuration Backup Service


SUPPORT INFORMATION
Technical assistance is available from Netgate Global Support 24x7x365. 
TAC Lite is included with the purchase of your Netgate appliance.
TAC Pro and TAC Enterprise SLA descriptions and pricing are available here. 
Help is available on our community forum here.
WARRANTY INFORMATION
No customer reviews for the moment.